Biocultural Conservation Farm
Bio-Cultural Conservation Farm
The "bio-cultural conservation farm" (BCCF) stewards the cultivation of heirloom vegetables and fruits, and conserves them as living plants and/or as seed, in order to illustrate, save and share the biological diversity of the edible plants that underpin our food system.
The Oak Spring estate is nestled in Upperville, Virginia which is uniquely located in the Virginia Piedmont, between the Blue Ridge and Bull Run mountains, and in the foothills of Appalachia (mapped here) - in the north-eastern fringe of this region rich in agro-biodiversity. Part of the goal of the BCCF is to highlight food crops that have been woven into the history and traditions of these regions - to not only grow these crops as food but to also save and share their seeds and stories.
The farm site is approximately 3 acres with a little less than 2 acres reserved for food and seed production. Though we do not plan on pursuing an organic certification for the farm in the immediate future, we are and will be using organic, no-spray and minimal-till practices. We are focused on building soil fertility through the use of rotational growing and cover crops, and minimizing the use of heavy equipment on our fields.
Our main objectives for the farm are rooted in Food Production, Conservation, and Education
Produce grown on the farm will supply OSGF's onsite kitchen and will also be used to provide guests associated with our programming with nourishing, fresh vegetables during their stays.

As part of our conservation objectives, we will be preserving seeds and plants of Appalachian and Virginia-Piedmont food crops and forest botanicals.

Although 2019 is very much a transition year for the BCCF, we are working towards creating educational programs with local partners to share with our local and regional communities.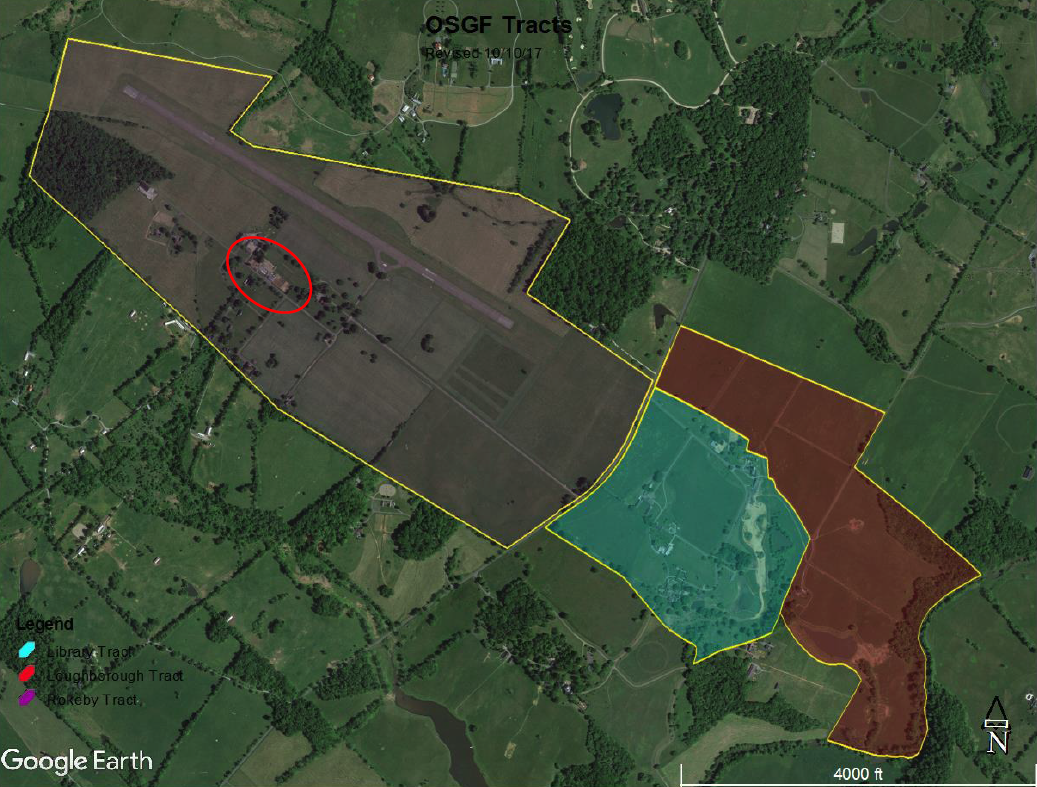 The BCCF site includes the following:
A ca. ¾-acre walled garden - future site of heirloom seed saving and rotating themed plantings and "living exhibits" planned in conjunction with the OSGF library.
A ca. 1 acre fenced in production area - 4 of the 6 fields will be used for annual vegetable production; the remaining 2 fields will showcase perennial food systems with an edible food forest focus.

Substantial cold frames - future uses to include strawberry boxes and plant propagation nurseries.

Substantial series of unheated glass greenhouses - the greenhouses were constructed in 1939 and will no longer be actively heated using propane as they traditionally were. We are currently underway with renovations to create year-round food production and seed-starting spaces using passive heating and cooling systems.

Vacant infrastructure - we are currently underway with renovations to include a new pack house (washing station + cold storage), a seed processing room and event spaces.

Forest plots - future growing site for native medicinal woodland botanicals.
Connect with us!
Do you have seeds of a treasured heirloom that your family has been collecting for as long as you can remember? Or perhaps you have stories around a particular heirloom variety of collards, beans or squash? We'd love to connect with you! E-mail the Farm Manager, christine@osgf.org